---
Grand Master Sam Perez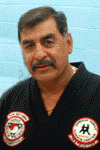 Mr. Perez began his martial arts instruction in the 1970's while serving in the United States Marine Corp. He has attained mastery in American Tae Kwon Do. He has much knowledge in other styles including Kobudu, Aikido, Aki Ju Jitsu, Krav Maga, Judo, Kenpo, and Military Hand-To-Hand combat.

Mr. Perez achieved his first degree black belt in the 1980's He continues his direction under Grandmaster Keith Yates, a nationally recognized leader in the martial arts and founder of the American Karate and Tae Kwon Do Organization (A-KaTo click patch link above). Mr. Perez is at the level of 8th degree Black belt in Tae Kwon Do which carries the title of Grand Master and a 1st degree Black belt in Kobudo (weaponry).

Mr. Perez has taught children and adults alike since the 1980's and has been a karate school owner in Denison, Texas since 1984.


Contact Info

301 N Lillis Lane
Denison TX 75020
at the Parkside Recreation Center PO Box 1583
Denison TX 75021
Phone: 903 465 2227
Text: 903 465 2227
Private message us on Facebook Sam Perez, Chief Instructor
8th Degree Black Belt

With more than 30 years as a karate instructor, Mr Perez is a 8th degree black belt in American Tae Kwon Do. He received the 2004 award of "Instructor of the year" from A-kaTo, a credible five state Tae Kwon Do organization.

Name:
Email:
Message:



Type the letters and numbers from the image into the whitebox below, and then click the 'Email Form' button.


(Enter code here)
---