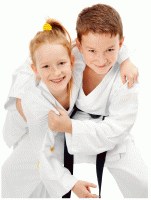 Martial arts is a fun and beneficial sport among our children here in north Texas. Our students tell us they are having great fun in class and they are learning to succeed. Our program inspires students to show more respect, develops self discipline & self control and it is all wrapped in fun. We take great pride in the quality of student we produce.
Right now our current Introductory Special is $75, which includes one month of classes, a full uniform and belt! We accept enrollment and payment by telephone as well as in person. This is a great way for your loved one to enjoy physical activity inside a safe & comfortable martial arts school which is inside Parkside Recreation Center at 301 N Lillis Lane, Denison; just behind CVS Pharmacy. The Recreation Center also has an indoor track, weight room, game room and basketball court available!
Class options for students (ages 5-14) include: Monday 4:45 and Thursday 6:15
You will find we have no down payments and no surprise fees plus we have reasonable rates. We feel sure you will be pleased in many ways. Our students gain many physical and mental skills that will serve them well for life!
Thank you for taking an interest in Denison Family Karate Center. We work toward BUILDING A BRIGHTER FUTURE FOR YOUR CHILD
Mr. & Mrs. Perez
* Introductory special is for new students only with enrollment fees waived.
Click our Facebook link below