Black Belt Posture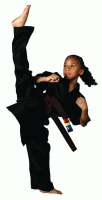 What is posture? From the perspective of etiquette, someone may answer that posture demonstrates class and sophistication. If you ask a Black Belt, he or she will say that posture shows confidence, strength, and discipline. Both definitions explain a position, or attitude, that represents a higher state of mind and body. Good posture isn't automatic; it takes practice.
Black Belt martial artists learn that posture is an integral part of performing martial arts techniques, so they work hard to ensure that they consistently maintain good posture. Practicing good posture requires lower body strength, torso strength and upper body strength, combined with balance. Your back muscles work with your abdominal muscles to hold your torso in an upright position, while your shoulder and neck muscles accomplish the same result for your upper body. Then your hip and thigh muscles work to hold your torso and upper body erect. Your balance enables all of the muscles to work together to keep your body in alignment.
In addition to the physical requirements to maintain good posture, it's equally important to be mentally aware of your posture. If you begin to slouch, then you must recognize and correct bad posture. Consistent awareness and correction enables your body to develop good muscle memory, which will transform into good posture habits. As martial artists, you will achieve many of these habits through training. You'll observe that Black Belts tend to walk and sit with great posture. They keep their backs straight, shoulders back and heads high. One thing that has always impressed me is that martial arts Black Belts, big or small, are able to show great confidence and strength without much effort. The reason is that they exert great confidence, strength, discipline and even class and sophistication through their "Black Belt" posture.
The good news is that you do not need to be a great Black Belt to have good posture. You can begin today to walk, sit and stand just like a Black Belt. All it takes is practice. You must practice by building strength in your muscles. You must also practice mentally by maintaining good posture every time you walk, sit and stand. It is not easy to have Black Belt posture, just as it is not easy to become a Black Belt. It will not happen overnight, but each night you can become a little bit better. Eventually, your effort will achieve results, and before you know it, you'll experience a higher state of mind and body.

NAPMA