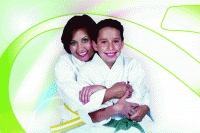 The word attitude means a state of mind, behavior or conduct. You control your attitudes. You may not be able to control the weather, but you can control how you think or behave. Your attitude has a direct effect on the outcome of your life; whether itís a positive or negative effect is your responsibility. A positive attitude is your best choice because it will lead to a more successful and fulfilling life.
The martial arts teaches you to think positively. This does not come naturally for some of us. A positive attitude requires skill, consistency and practice. That is another reason the distinguished rank of Black Belt is so special. It represents not only excellent martial arts skills and abilities, but also an excellent attitude. Without a positive attitude, you could not reach the level of Black Belt because of the numerous challenges you will face during that journey.
Test yourself for a positive or negative attitude. Answer true or false to the
statements below.
1. When I fail a test or challenge, I remain positive, knowing there is something to be learned from the experience. I know thinking negatively will only keep me from growing.
2. When I face a challenging deadline, I roll up my sleeves and rise to the occasion, knowing that I will feel great once I finish. I know thinking negatively will keep me from making my deadline.
3. I do not judge my friends by the words or opinions of others. If I judged people based on othersí opinions, then I would not have as many friends.
4. I do not blame others for my misfortunes. Blaming others would only make me more miserable.
5. I do not consider criticism from others to be a personal attack on me when it is meant to be constructive. If I did, then I would not be a great leader.
If you answered true to all of the statements above, then you have a highly positive attitude and most likely take every-day ups and downs in stride. If you answered false to any of the statements above, then you are still learning to develop a consistently positive attitude. You can have a positive attitude by simply telling yourself to think positively and refusing to listen to negative thoughts.
A positive attitude causes a chain reaction of positive outcomes; a negative attitude causes a chain reaction of negative outcomes. It is best for you to have a positive attitude. If you do, you will surely live a happier, healthier life! NAPMA