The Four Weeks Of Christmas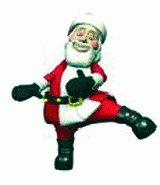 Did you know that Kris Kringle was a Black Belt?

Well, he was.

And each year his instructor suggested that he perform four good deeds throughout the month of December.

After each act of kindness, Kris would then report back to his instructor with the details. On a mission, Kris would keep his eyes and ears wide open so that he could find just one needy person each week to do something nice for.

This was easy since his Martial Arts training taught him how to show respect and courtesy to others.

One week, at the store, he held the door open for an elderly lady who had her arms full of presents.





Another week, he brought a card to his neighbor who had no family to celebrate the holiday with. Whatever he did, Kris always managed to make someone smile with his special gifts. He realized that Christmas was a time for giving and like all good Black Belts, Kris always tried his hardest at everything he did.





I'd like for you to be like Kris Kringle. Each week this month, try to do just one kind thing for someone that will make them happy. It might be a relative, neighbor, friend, or a teacher at school. And when you 're finished with each good deed, make sure you look right at them and say, "Merry Christmas sir or ma'am."



Sometimes saying that alone will make this their most special Christmas ever.

You see, the Martial Arts teaches us to do nice things for other people and to be a role model.